These are some pics of my sister and I which were taken around 25 years ago.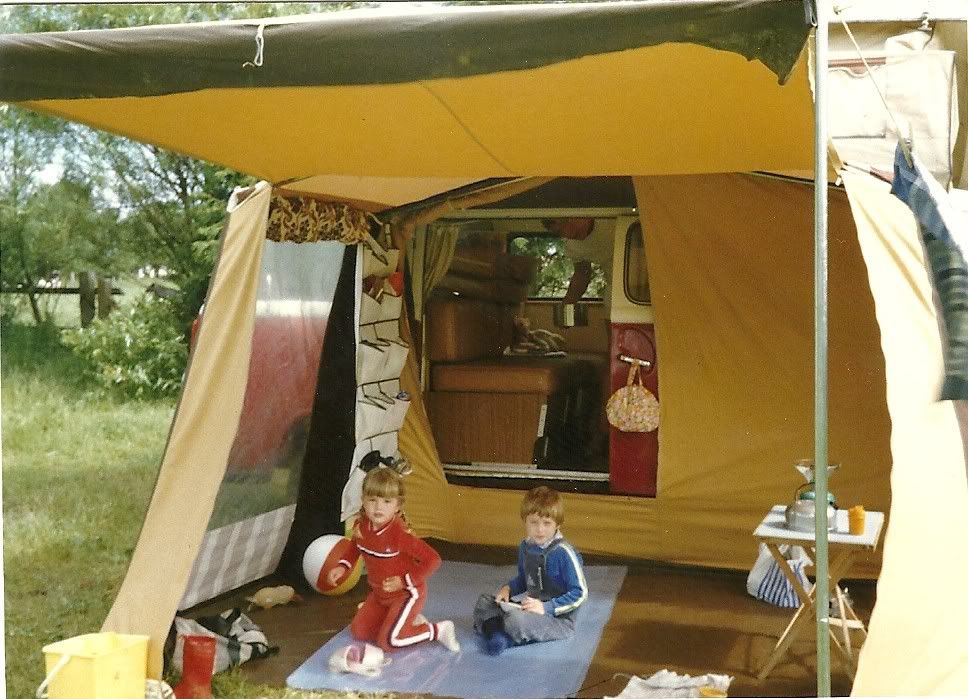 My parents bought it from Norfolk around 1984.
In 1988 my parents divorced and I haven't kept in touch with my Dad who took the van with him.
My Uncle who is my Dad's brother which I'm still in touch with has told me as much as he can remember about it.
Unfortunately the last he heard was that it was involved in an accident in Mottingham, SE London around 1989 where it got beached on a 2ft high wall. The story is that my Dad had managed this while "under the influence" and he cut a deal with a policeman which basically allowed him to walk away and the policeman to become the new owner of the van.
The van is a bit of a mish mash of parts. It is a crossover with the early front panel but later rear lights. It has a Viking conversion which I have only ever seen on late Bays. My uncle tells me that it had a 2.0 ltr engine, so that makes me think that it was perhaps fitted with a type 4 motor. When my parents first bought it it was a dark orange/red colour but my Dad had it resprayed into the maroon colour it is in the pic. Unfortunately I don't know the full reg number but I can see in the pic that it ended "205K". I'm hoping that because it had some quite unique features someone might recognise it.
My wife and I are expecting our first baby in September and she has told me that she would like us to get a camper to use for family holidays and shows etc.
Wouldn't it be great to get the camper I enjoyed when I was a kid!