Discussion Starter
·
#1
·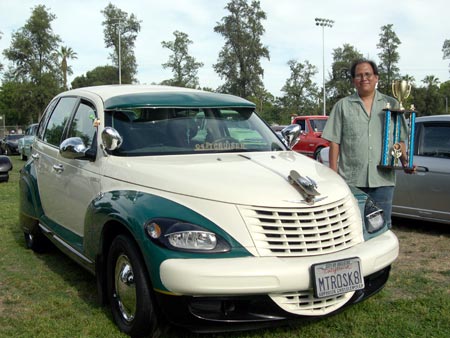 Yeah, thats right baby. It's the Chrysler PT cruiser, the 'Jumping Bay' of the Automotive world. It was quite ammusing the first time you saw one, but the joke very quickly wore off. Made worse by the fact that the owners of these cars tend to stick all sorts of Halfordesque tat to them, and think they are like, Real Hotrodders!!!
Apparently they are safe now, but not from ridicule. This picture is funny on so many levels, but you just know that she'll hate him forever for making her drive in that on her wedding day. Admirable sentiment, piss poor execution.
Upsets me because it could have been so much better. Saw the orignal concept car, and loved it. Then they said that they where actually going to build it......and oh dear.
Architypal hairdressers car, brought in their thousands by Accountants and Estate Agents that thought it made them look cooler and Richer as they drove home in their wool/nylon mix suit from Next, Samsung mobile phone clamped to their ear.....the man who is almost cool, but misses the target by miles.