Discussion Starter
·
#1
·
As you all know, I'm currently going through the planning and intial design of my splitty and trying to figure out the best gearbox and suspension set up to complement the Scooby ej22 engine.
I read on one forum or othey, think it was VWKD, that somebody suggested "Why not just cut the front off the subaru and put the whole thing in as it is".
Been giving this abit of thought today after doing this to the Scooby -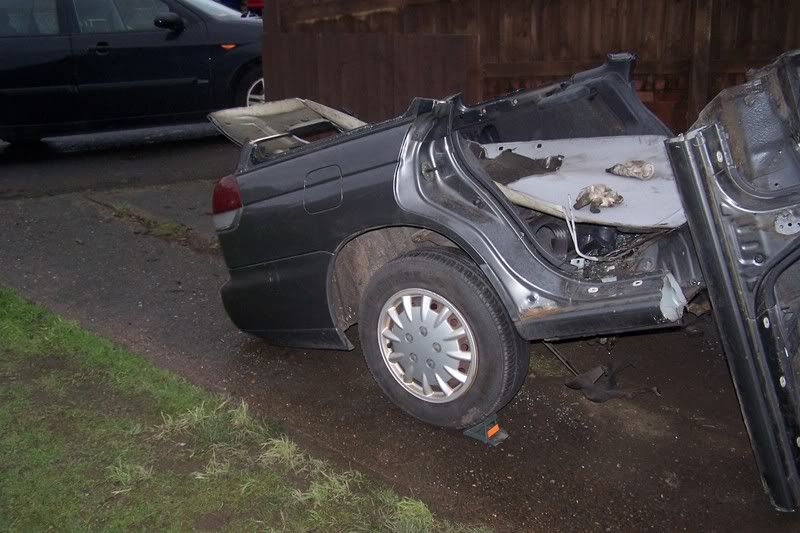 and seeing how well made and engineered they are, and decided that the idea might work.
I know it wont be easy and that I will need to make severe changed to the chassis and probably a new one but here is my idea.
Instead of using the engine, gearbox , propshaft and rear diff, just use the engine and gearbox and the Subaru rear suspension.
The subaru has an excellant rear suspension set up and it is removable as one unit with the removable crossmember.
The gearbox and engine are bolted together in the conventional rear wheel drive manner and the output flanges one the gearbox are fairly close to the engine itself, meaning that I would be able to get the engine only just slightly forward of the rear wheels.
The Subaru suspension is a sort of 4 bar sytem meaning that I could new barckets to the chassis and bolt it all in. On paper and in theory ot sounds like a good set up and the enghine wouldn't encroach too much into the cab area, could be fitted at whatever height I wanted thanks to the removeable crossmember and would balance the weight a lot easier.
However, I can think of the following problems that would need addressing first (feel free to add any, or solve any for me)
- The gearbox has a big hole in the end that the propshaft pushes into. I surpose a plug could be machined and fitted.
- I can not think of any way that a manual gearbox could be used and made to work.
- The standard coilovers have those horrible 3 bolt mounts on the top menaing that I will have to build a suitable tower for them. Could the ends be swapped for a similar mounts to a beetle or camper.
- I do not know if the box is geared to accept all of the power through the front wheels only. I think that 4 wheel drive cars have a 60/40 power split front torear or vice versa. Not sure though.
The more I think about this set up, the more I think it would work.
Any advice?