Discussion Starter
·
#1
·
Mazda MX5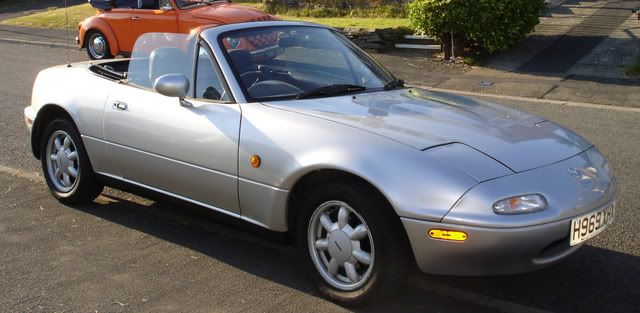 UK car
'H' 1991
No modifications
Extensive service history
Toad thatcham Cat 1 immobiliser
Electric windows
Quality CD headunit and speakers
Excellent recent hood
Recent maintenance includes new clutch slave cylinder and rear brake calipers (both common MX5 problems)
Rare to find an unmolested standard UK car now. Has some stone chips, and a couple of small paint blemishes consistent with age.
This is a proper roadster sportscar, rear wheel drive, light weight, amazing handling and very efficient too, 40 mpg - yes they are as good as everyone says!
01267 221355
07875 793470
m7lsy at yahoo dot co dot uk
Was for sale at £2.5k when we still had sun shining. Now offered on ebay for £1000 start and no reserve - I have a new car on the way 1st Feb and therefore this needs to go prior.
More pictures and info on ebay item no. 170187413297
http://cgi.ebay.co.uk/ws/eBayISAPI....m=170187413297&ssPageName=STRK:MESE:IT&ih=007
I will end the auction early if someone puts £1750 in my hand or bank account prior to the auction ending on Sunday 27 January 2008 - otherwise, happy bidding!
Neil