Discussion Starter
·
#1
·
Mont Ventoux is one of the big climbs on the Tour de France, and is the scene of one of Chris Froome's stage successes that led to his 2013 win. It's a climb of 5,200 feet up a bare bit of mountain that often gets really appalling weather.
The easy way to cycle up Mont Ventoux is to drive to the village of Bédoin, get the bike out of the car, pedal the 15 miles up to the summit, ride down again and put the bike back in the car and drive on. About two to four hours total on the bike depending on your fitness and the weather. Some guys did it on a Boris Bike last year, you may have seen.
That's too easy, so I'm doing it the hard way.
I'm starting from Guy's Hospital in SE London and cycling all the way to Bédoin, up Mont Ventoux, down again and then going on to Marseille, which is about another 100 miles. Just under 800 miles all in I think, over eight days.
I'm doing it to celebrate four years of prostate cancer, or not having it any more to be more accurate, though the medics never say "you are cured", just say you are in remission (despite what you read in the press).
I'm raising money for specialist urology nurse training - you think it's the doctors who save you, but actually it's the nurses who make you feel better, even though the doctors play a vital role. Not only do nurses make you feel better, in doing so they make your family feel more secure and comfortable at what is for most people the worst news they've ever had.
Surprisingly there is no specific training or qualification required to be a specialist cancer nurse in urology or any other cancer type. But training is clearly needed, both in the technical aspects of cancer treatment as well as in the softer skills needed to support people with a disease that may well kill them. About 25% of men with prostate cancer die directly from it, some really quite quickly.
My experience at Guy's was superb, and talking to the nurses I discovered that a lot of this was down to their specialist training. But you shouldn't have to go to Guy's to receive such high quality care, so I found a charity (
The Urology Foundation
) that was already supporting the training of specialist urology doctors and persuaded them that they need to support nurses too.
So this is why I'm doing my big bike ride - I want world class urology nurses in every hospital treating men with prostate cancer. The British Association of Urology Nurses agrees with me and is supporting me in my challenge - here's a picture of me taken with their President last week - I rode the 25 miles to Basingstoke and the back again to meet her: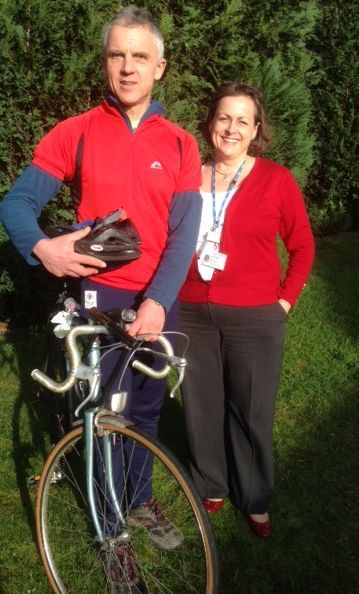 Now I know it's a tough time of year to ask for money, so I'll bump this again come paydays in January, February and March (by which time I'll have finished!), but please consider a donation even if it's just a small amount. It'll add up to a big amount just the same.
My sponsorship page is
here
- many thanks for getting this far, but it's important to me, and even more important to the 40,000 men who get a prostate cancer diagnosis every year.