After the success of my Model Big 'T' thread here:
http://www.volkszone.co.uk/VZi/showthread.php?t=485095
,
I decided a similar thread for my project Tamiya Sand Scorcher might go down well!
So after a year or so of searching for a Rough, Rolling Sand Scorcher that I can afford I finally came accross this on ebay with 9 days to go and ended mid afternoon on a Thursday, so I thought most people are gonna be at work while this ends so I'll keep an eye on it. It sat at £102 right up untill the last 2 minutes when someone else decided to bid on it, so with 30 seconds to go I chucked in my maximum bid and got it for £40 less at £150.
It came with a few other bits not seen in the pictures which were 2 brand new front 'Smoothee' Tyres, Naff old servos, Speed Control and Receiver and a pretty good condition Radio Box Lid with all 4 Cam Locks but No Lower Radio Box! lol.
My plans are to Repaint the Body, as it might look clean and shiney from a distance but up close it is really un-even as it seems to have been done using an small AirFix Paint Brush, Not sure if I will be keeping the Box Art theme or doing something a bit more Custom. Chassis wise I will be using pretty much all of Rads Awesome Alloy Parts including his Box Art Wheels and I also have some nice new Padla Trak rear tyres on the way.
It's basically gonna be getting a Major Overhaul!
This thread will progress somewhat slower than the Big 'T' Build as it will be Updated 'As and When' I can afford the parts I will be using.
Here it is prettymuch as it arrived, not an Actual Sand Scorcher Body but the virtually Identical Monster Beetle Body as they are much easier and cheaper to get hold of if you wreck them.... and this Is going to get Thrashed! It's also sitting on Ford Ranger Wheels but I will be changing it back to Scorcher Wheels... Skinny at front and Fat out back!
A crack in the Windscreen: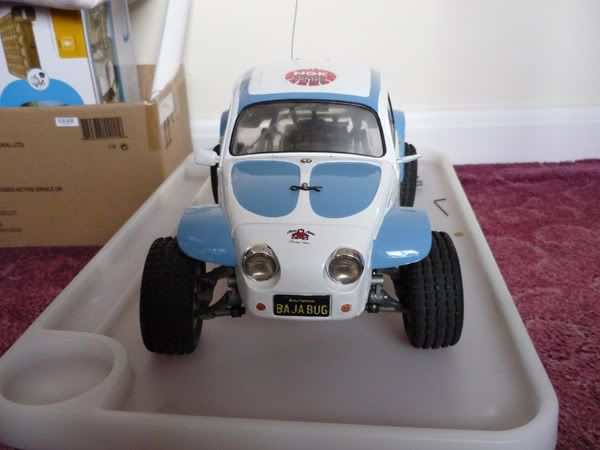 No rear window and cage has been painted black, this will be changing: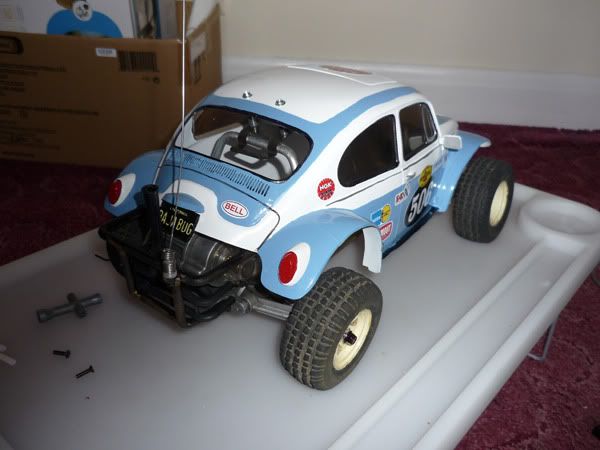 Also came with the original Scorcher Exhaust.... but this will also be changing