ENGINE NOW SOLD!
Turbo Thomas exhaust still available (will put up a separate listing later)
I am regrettably selling my 2056cc Type 4 Beetle engine, designed and built by
LVH Engines
. Unfortunately, it's come to a point where I can't run this beautiful piece of engineering in my bug any longer.
Without sounding too 'salesy', this really is the dream VW aircooled motor. It's no huge, revy, power monster or detailed show trailer queen. It's been designed and built to be used and most of all to be usable. Paul Weeding at LVH came up with an engine spec that went by the 'big and mild' theory, loads of low down torque and reliable. That's why we chose an aircooled 2ltr Porsche 914 block base for the build. This really is a no-expense-spared build, LVH have made sure to use the highest quality and most durable components with longevity in mind.
The engine has done around 800 miles since new and 200 since it's last fine tune. It hasn't be rolling roaded for power figures yet, but I'd expect it to pushing well over 100bhp with a lot of torque to boot. This thing could pull a tree out of the ground!
It's run in, refined down to run perfectly and is pretty much plug n play for a Beetle!
As you can imagine, thousands of £££'s have gone into the build and subsequent fine tuning. I am looking for a very reasonable:

£4000
This includes the whole thing- engine, exhaust, external cooling, all ancillaries plus the intermediate mount fitted to my bug (if needed). I am definitely open to reduce the total with a solid donor engine in exchange. I will consider splitting the engine from the exhaust for the right offer as I don't want to deny this awesome motor to T2 and Karmann Ghia owners. The engine is in my Bug (which is not drivable as it's mid front end/ fuel tank resto!), so the logistics of swapping engines will also need to be considered. I will also be selling my 61 rhd rag top Beetle soon after the sale of the engine so a deal could potentially be struck with it included. Basically, I'm open to sensible offers!
If you have any questions please give me a shout and I'll do my best to help you. But I may refer you on to Paul at LVH for the more technical side of the build!
Engine is located in Rayleigh, Essex
.
Please see the full engine spec and pictures below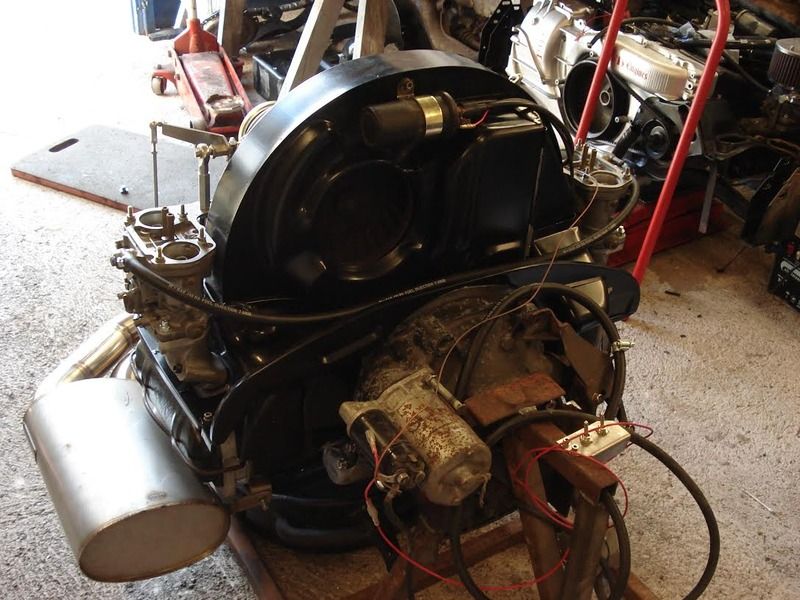 Here's a video of it's first full start after the cam was run in -
Spec
Full custom made Turbo Thomas exhaust system

Engine based on a GA code Porshce 914 2ltr block

CSP Type 4 to Type 1 Upright Fanshroud Conversion
Camshaft: Eurorace H Grind (286 x 485")
2056cc B&P kit
Stateside Tuning 1800 heads - 41x34 valves
45 Dellorto Carbs with modified CSP linkage to work with short manifolds on type 1 conversion.
CSP Type-4 Weber IDF Manifolds 44mm 4-bolt
Top quality 75mm Velocity stacks & foam air filters
123 Ignition SVDA Distributor
CB Performance Rotary fuel pump
200mm Kennedy stage 1 pressure plate
Clutch bolts - Heavy duty
Taylor 8mm HT leads
Ported and polished heads + matched port manifolds
Dynamically balanced
High quality, heavy duty, industrial hoses and fittings throughout

External 72 plate electric fan oil cooler with sandwich plate and ancillaries