Discussion Starter
·
#1
·
Hi all,
I have a 1970 beetle with 4inch narrowed fully adjustable Eva resto front beam on standard spindles with disc conversion and Eva resto rear swing arm on the 2nd notch drop with lowered shocks. I love the stance and look of the bug but don't like the reali skinny front wheels I'm running 145/65r15 on the front for clearance on lock but the front wheels sit to far in for me. Does anyone know what size wheel or et I'll need to run to fill the arches better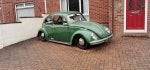 hope the image helps its not the best
I'm guna get wider wheels for the rear anyway but that's not much of a problem it's just the front I can't work out.
Cheers Matt